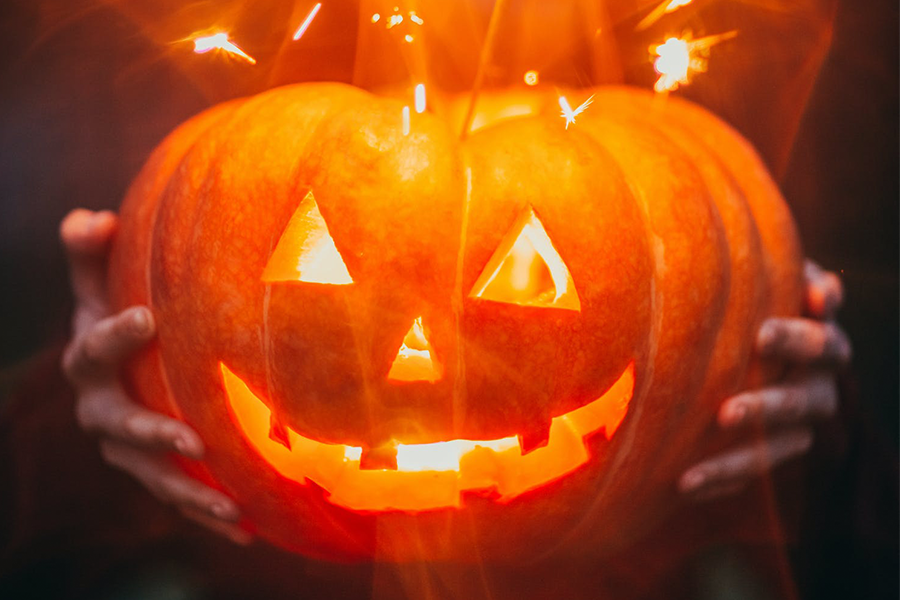 This year, Halloween falls on a Sunday, October 31, 2021. A good excuse to offer a short stay in Paris, the time to celebrate as it should be, this festive and shivering ceremony!
This year more than ever, children and adults want to have fun and change their minds!
For the record, Halloween is a folk festival whose Celtic origins go back several thousand years. This tradition was then exported in the 19th century by Irish and Scottish migrants fleeing the famine of the European continent.
The term Halloween comes from the expression "All Hallows-Even" which would mean today "The eve of All Hallows' Day". Not surprising, since this holiday is held every year on October 31, the day before All Saints' Day.
What is Halloween all about? Children dress up and embody the souls of the dead, they wander from door to door asking for candy with only one question: Trick or Treat ? 
In France, even if this holiday is sometimes controversial because it is considered too commercial and foreign to our customs, Halloween remains a very good excuse to dress up and have fun being scared !
Discover our ideas of outings to celebrate Halloween in Paris in 2021.🎃
Celebrate Halloween with children in Paris
The Disneyland Park and its legendary fairy tale is a must :
Celebrating Halloween at Disneyland Paris is the assurance of not being disappointed ! Parades with Disney's villains, souvenir stores with Halloween goodies, enchanting rides or goosebumps… Everything is designed to make you escape from everyday life and enjoy a good weekend with your family.
https://www.disneylandparis.com/fr-fr/les-saisons/halloween/?hotel=DNBH&month=10-2021
For young and old alike, Parc Asterix is also a safe bet with crazy Halloween-themed attractions for all ages.
https://www.parcasterix.fr/peur-sur-parc
For Halloween, La Mer de Sable becomes L'épouvantable Mer de Sable!
An amusement park with attractions revisited for the occasion, workshops and face painting contests, meetings with zombie cowboys and a Halloween show on the theme of Dia de los muertos.
Infos : https://www.merdesable.fr/actualite-epouvantable-mer-de-sable
Celebrate Halloween with teens
For teens 12 years and older, La Villette organizes Le Manoir Festival Halloween, let yourself be immersed in a scary and magical immersive experience, over 4000m2. You will meet nightmarish zombies, evil spirits and other demonic creatures in the haunted mansions of the XXL version, more real than real!
Infos : https://lavillette.com/programmation/manoir-halloween-festival_e1271
Where to go on Halloween weekend in Paris with adults?
Halloween between adults? Yes yes it's possible, here are some of the parties that have caught our attention to celebrate Halloween 2021 between adults!
Clubs :
The biggest Halloween haunted house in Paris 2021
Where ? The Bridge (ex Showcase) under the Pont Alexandre III
Pont Alexandre III, right bank, 75008 Paris
Sunday, October 31 from 10pm | Admission 10-20€.
A grandiose party that will welcome 1800 people in one of the most beautiful clubs of the capital, then totally redecorated as a haunted mansion. Animations and surprises are planned throughout the evening. Disguise highly recommended but not mandatory: make-up, witches, zombies, vampires…. Enjoy yourself!
More info on : https://www.parisbouge.com/event/232074
The Monsters of Horror Ball
Where is it ? Le Yoyo
13, Avenue du Président Wilson, 75016 Paris
Sunday, October 31st from 10pm | Admission 10€
The Yoyo, the capital's hype club, located in the Palais de Tokyo at the Trocadero, is transformed for the occasion into a haunted Parisian catacomb setting! Shiver with fear at the contact of skeletons, skulls and other creepy creatures…
The best part ? We like the high tech equipment of the Yoyo with 3D sound system, LED screens and ultra HD videos… The Yoyo is a high place of the capital, where artists and influential people of the fashion world meet.
An immersive show :
The must-see event to celebrate Halloween in Paris ? The Manoir de Paris of course! A reference for fans of horror shows and immersive experiences. Every year, the Manoir de Paris offers new and even scarier shows, sophisticated sets and original animations: light shows, special effects, striking actors… Let yourself be carried away by extraordinary atmospheres, which will make you go from laughter to tears throughout the evening.
More info : https://www.lemanoirdeparis.fr/a-propos/
➡️And find even more ideas for Halloween in Paris in 2021 on the website of the Paris Tourist Office.
Save your budget on your hotel!
Don't sacrifice your budget ! Book your double, twin or triple rooms, with all the comforts at a low price, at the 3 star Reseda hotel, ideally affordable and accessible by Metro, bus and ring road.
For your All Saints' Day vacations, or to celebrate Halloween in Paris for a weekend, save money on your hotel and enjoy yourself on the outings! Paris is a very pleasant city in autumn, whether to stroll along the Seine and its beautiful gardens, or to enjoy a shopping spree just before the end of the year holidays.
The entire Reseda hotel team is delighted to welcome you, whether you are alone, accompanied by your family or friends for your next weekend in Paris!